Heritage and the climate crisis: integrating change and preservation – the Oxford discussion


INTRODUCTION
Oxford has a rich and valuable legacy of historic buildings and conservation areas. As with other major cities nationally and globally Oxford faces the 'zero-carbon' challenge: how to adapt buildings and neighbourhoods so they can be more energy-efficient yet at the same time protect heritage assets that are a source of common heritage, civic pride and identity in the city.
This challenge is significant: there may be perceived conflicts between carbon reduction and heritage protection. Planning regulations are complex and do not enable easy solutions to achieving the net-zero targets set out in the climate action plans of the City and County.  We see a need to bring together interested parties/stakeholders to lead the way in addressing this important issue, to start a conversation, to define and discuss the key challenges with a view to drawing up a set of priorities and guidelines that can be used as a starting point to create a pathway to achieving effective solutions.
 The aim of the BCAUSE programme is to 'co-create solutions to complex problems by discussing them openly in a well-structured environment'. This is focused around a new online discussion platform and the work in Oxford is one of the first projects to trial this platform.
The Online Discussion: Exploring the Topics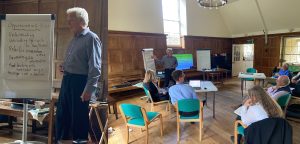 A Start-Up meeting for the Oxford Heritage and Climate Change project took place on the 1st July. Participants collectively agreed on a series of four key topics for discussion and these have now been added to the BCAUSE online platform and are now online and available for you to contribute your thoughts, ideas and comments.
TO JOIN THE DISCUSSION: GO TO THE BCAUSE OXFORD TOPICS PAGE
Where you will find
A link to Sign Up and get a Login (in the top right-hand corner of the page) or use the login page

Links to each of the four topics:
If you are unsure about how to use the online platform go to the BCAUSE User Guide HERE